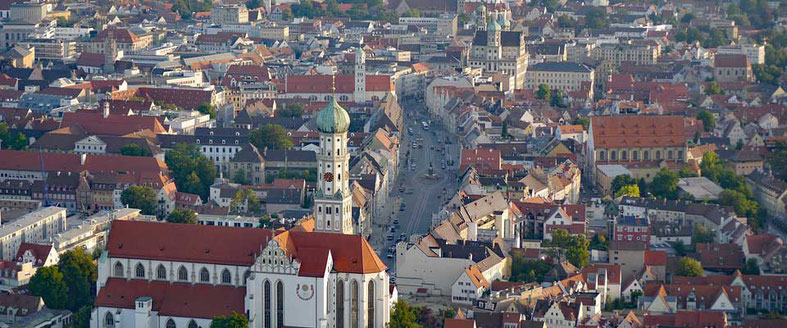 ---

The city of the prince bishops
The castle Altenburg
The cathedral
The monastery of St. Michael with The monastery garden
The new residence with the rose garden
A small beautiful old town with a medieval flair
City of beer breweries
The summer residence of the Bamberg prince-bishops, the beautiful castle Seehof
The interesting castle Greifenstein: The castle of Stauffenbergs
---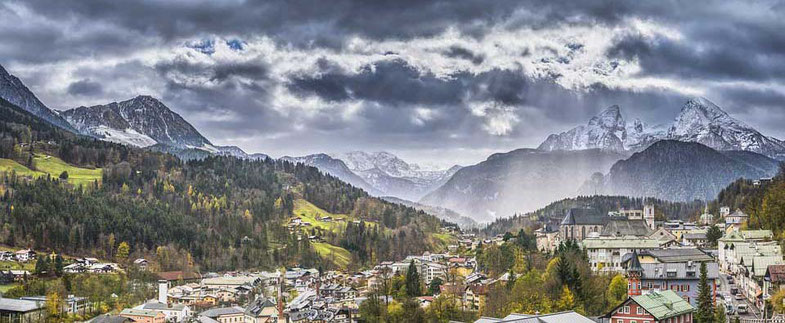 ---
Lake Eibsee, Zugspitze, Alpspitze, Partnachklamm, lake Riessersee, castle ruins Werdenfels, royal house at the Schachen of Ludwig the Second, historical Ludwig street, the city of the Olympic Games, monastery Ettal,  world famous Passion Play of Oberammergau 2020 & much more
Day trips from Munich to Garmisch & Surroundings
Germany´s highest mountain Zugspitze & lake Eibsee
The city of olympic winter games
Castle Neuschwanstein, castle Linderhof, monastery Ettal
passion in Oberammergau, Lake Plansee, Mittenwald, Seefeld, Innsbruck
---

The Cathedral of St. Martin: The tallest brick tower in the world / 130.6 meters
---
---
---
First the Celts were there, then around the year 79 the Romans came. From about 500 to 788 Regensburg was the headquarters of the Dukes of the Bavarians. Then came Charlemagne & the Carolingians. Regensburg is one of the oldest bishoprics in Germany. The Romanesque and Gothic architecture of the Middle Ages still determines the face of the old town. Catholicism, Protestantism, The Thirty-Year War, Napoleon Bonaparte / A sign of the prosperity of the city at that time is the construction of the Stone Bridge from 1135 to 1146. The Regensburg Cathedral St. Peter & The Stone Bridge are the landmarks of the city.
The Celts, Romans, Bavarians, Carolingians, Cathedral St. Peter & The Stone Bridge...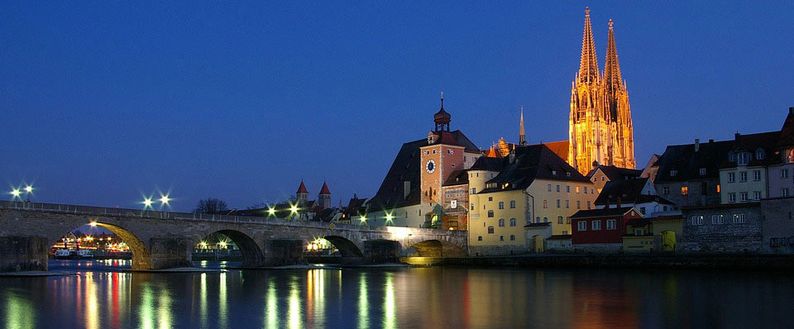 Walhalla: In the memorial Walhalla, important personalities of German history, with marble busts and memorial plaques are honored
Befreiungshalle: The liberation hall is a monument, built in memory of the won battles against Napoleon during the liberation wars in the years 1813 to 1815. The building was commissioned by King Ludwig I of Bavaria. Impressive oversized angel statues.
---
A city which takes you like a time machine back to The Middle Ages
Souvenir shops with articles of The Ancient World & The Middle Ages
A journey back to the Middle Ages
---
Würzburg, a prince-bishop's beautiful city on the Main Canal
From the fortress Marienberg you have a nice view down to the city & Main bridge
And the residence is Divine, World Heritage
Do not forget to taste the Franconian wines ... Excellent 
---
---
The most beautiful castle hotels in The Alps / Germany, Austria & South-Tyrol
---
---
---
---
Golfing, with mountains as a backdrop
---
---
---